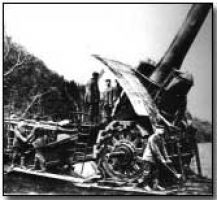 This must have been what hell is like. The sound of the guns from the Somme could be heard 150 miles North in Birmingham England. http://www.thelearningcentre.org/ww1/sect2_p4.htm
Bombardment by M.A.Meddings
On the 24th of June 1916 as a preliminary to the planned offensive on the River Somme in Northern France, the British artilliary of the fouth Army opened the final stage of a bombardment of enemy positions. That bombardment was the culmination of an Artilliary barrage that had started 20 days ealier. It was to become the longest continuous Artilliary barrage in History.

The British fire power was phenominal. There were 427 guns ranged against German defences, one gun for every 58 yards across the line of the front. In the final three days of the Bombardment British artilliary fired 1.75 Million shells and it is estimated that during the total bombardment which opened on 5th of June with light field guns, over a third of a million tonnes of shells were fired.

Yet despite the fierce onslaught it failed to break german defensive positions
and allow free passage to advancing troops on the 1st of July.
To that end the barrage was a failure, it failed to break Weremacht morale and only proved the saying coined at Verdun
'Arilliary conquers but infantry occupies'
The one objective of the battle of the Somme was bought at terrible cost, that was the relief of verdun for the French defenders as german high command was forced to move troops away from the beleagured city to defend the position on the Somme.
Did you hear those guns young man
Last night they were even louder
Yes Johnny will be hearing them too
The sound carries on the clear air from France
They been giving them hell since dawn
Oh my god the poor bastards
There ears will bleed from the harsh sound
I just couldnt sleep even here in England
The sound terrifies yet unifies us as a nation
Thems British guns son
We're giving them hell tonight
Makes you feel proud to be British
Soon the war will be over
And life can begin again
Oh yes your right not for some
Not the poor bastards on the Somme
Poetry by lastromantichero


Read 435 times
Written on 2007-06-24 at 10:03



Save as a bookmark (requires login)


Write a comment (requires login)


Send as email (requires login)


Print text

Increase font

Decrease