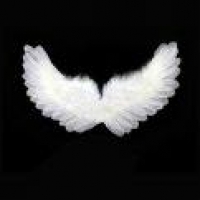 this is one that came from feelings that played through my mind like a song
Serenade of Dreams
Entangled in white cotton sheets,
silkened to the touch, their glistening bodies,
flushed and warm, lay entwined
while their soft breathing became
the melody of the night.
The flickering flames of half melted candles
danced to their own rhythm, which
somehow, reflect the movements,
just moments before, between these two
who enjoyed the pleasures of one another.
Her flaxen hair, spread out over his
grizzled chest, rises and falls as he
breathes in the scent of vanilla and honey.
Sweet dreams come tonight in the arms
of love. Misty, soft floating dreams, serene
and heavenly, intermingle.

And they are enveloped by the night
folded inside the wings of angels
as they fly beyond their reality
and love beyond their dreams.
Kathy Lockhart
1/5/08
Poetry by Kathy Lockhart
Read 967 times
Written on 2008-01-05 at 09:21

Tags Love&nbsp



Save as a bookmark (requires login)


Write a comment (requires login)


Send as email (requires login)


Print text