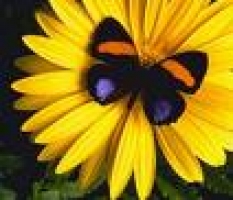 If I Were A Butterfly
If I were a butterfly
and you were a flower,
I would alight upon you
and enjoy your sweetness
for all the hours that I have left
then I would die there in your love,
knowing that all good things truly
come from God above.

Then you and I
would be transformed
into the fragrance
of eternal bless'ed love
blowing in the breeze
of Heaven's breath
passing out the beauty
of knowing how death
simply changes our form
but never our fate.

We will flow o'er the world,
nullifying all hate
as we shall continue to shower
upon all who would feel
this wonderful balm of love
that forever heals.

Poetry by Kathy Lockhart


Read 2147 times
Written on 2008-07-05 at 07:18



Save as a bookmark (requires login)


Write a comment (requires login)


Send as email (requires login)


Print text