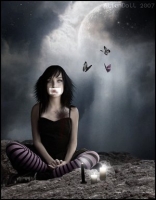 Everything is silence

My friend, my friend,
Where have you gone?
Is your star still on?
Do you fear the darkness?
Do you hear the silent rain?
or are you all in pain?

My friend, my friend
where do you go?
is your road leading you on?
do you see the stars fly by
the rainbow of your mind
or matters only time?

My friend, my friend
the hopes shouldn't be gone
it's all in the hand of fate
it's not at all too late
The thunders and the lightning
are long gone by
and the morning is dawning.
Poetry by Richard
Read 691 times
Written on 2008-07-02 at 16:17



Save as a bookmark (requires login)


Write a comment (requires login)


Send as email (requires login)


Print text