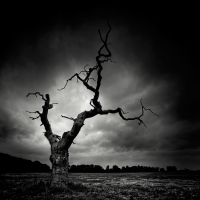 My first departure that hurt too much
Loneliness and emptiness

There's one thing they call emptiness
One thing's called loneliness,
two hollow things
And when you string them both together
couldn't be able name them as one thing.

That's what I felt when you left home
cannot explain, I can't say a single word.
Just standing stunned, holding the key
That you returned when you left me.

And the morning breathes in the misty dawn
The moaning cry is the echoe of my heart.
Like the winter's whispering, the night could call
Like an endless twinkling of a broken soul,
seeking a warm embrace like the needing child,
lingering on and on...

If the emptiness comes creeping
If the loneliness can reach you
You got to shut them out
And think of all the summers before you
and all the winters that you've left behind

That's worth to feel when pushed out of shape
Cannot further explain, I won't say a single word,
Just standing stunned while growing old
Hoping the healing must not last too long.

But the autumn's haze grows into the winter's grey
The autumn-leaves are already lost and gone.
If your soul comes calling, I'd like to bear
All your sorrows and troubles, that made you care
But set your independence free, though the gulch would scare
You got to let it be growing on and on...

Poetry by Richard
Read 525 times
Written on 2008-11-29 at 19:03



Save as a bookmark (requires login)


Write a comment (requires login)


Send as email (requires login)


Print text