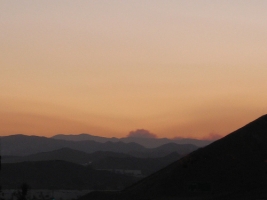 still in L.A. but leaving tomorrow afternoon. What a trip! Thanks C. P. for the lovely, inspiring, elating, sating adventure!
California Dreamin'
L. A. confidential
Mexican residential
Margarita dances
Freeway 405 chances
Eclectic cultural traditions
Vencie Beach contradictions
Malibu Beach surfers
Santa Monica Pier singers
Canyons with majestic views
Beverly Hills' Avenues
Hollywood stars and homeless
Handprints and signatures, famous
Medical marijuana
Tatooes and music from Tiajuana
Valleys, hills, and cacti
Sand, water -- you and I
Holidays and vacations
People from every nation
California dreamin'
L. A. tourists schemin'
Norms, Coco's, and El Pollo Loco
Eatin' our way through as we go
Coming home a little fatter
Satisfied in gaining what we were after.
Poetry by Kathy Lockhart


Read 553 times
Written on 2009-06-16 at 04:43



Save as a bookmark (requires login)


Write a comment (requires login)


Send as email

Print text