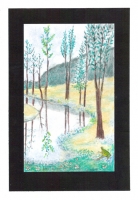 Revised and reposted with new artwork. The artwork is also located in a larger format in my miscellaneous exhibitions.
A Frog's Kiss
The temperate dawn's luminous lights
warmed and aroused Earth's garden delights.
A slumbering morning glory raises her head
as her blue petaled bells stretch and spread.

Violet-blue gentians are folded still,
awaiting relief from the evening's chill.
In radiant warmth their blossoms grew
into perennial bouquets and tonic brew.

Growing with Gray's Lily and Solomen's Seal
were soothing herbs, sweet flowers that heal.
Love's fairytale is in the forest of make-believe
near yellow wood-sorrels with green trefoil leaves.

A magic kiss is awaiting a little green frog,
under the ranunculus, down by the damp bog
where a lavender light fills the fantasy's dusk,
warming the love lingering in luminous lust.
Warm and aroused inside Earth's garden's delights,
Blossoms lay in flower beds the rest of the night.
And the Prince of a frog no longer will grieve
by the yellow wood-sorrels with green trefoil leaves.
Poetry by melanie sue
Read 799 times
Written on 2009-08-13 at 06:45



Save as a bookmark (requires login)


Write a comment (requires login)


Send as email (requires login)


Print text

Increase font

Decrease