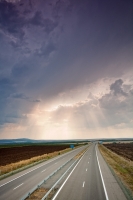 Can't fall asleep...
It's so hard

It's hard, it's so hard
To be in pain
When you're longing for your love
And it's all in vain

Will there be a tomorrow?
Or is it all the same
Waiting in the dark
Not knowing what happened
Who is to blame?

I'm dreaming every night
Of times past, of times present
Never dream about the future
Is it gone, am I stuck within my mind?

Poetry by Richard
Read 495 times
Written on 2010-08-16 at 23:46



Save as a bookmark (requires login)


Write a comment (requires login)


Send as email (requires login)


Print text