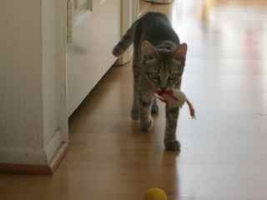 Mousey (poem about a mouse)
There once was a small furry thing
Mousey was his name,
he began his life upon a string
connected to a bow.

A fishing rod for cats, of sorts,
was a source of play,
and such excitement did it bring
we often had to put it away.

Then one day Mousey's freedom came,
to a string he was no more tethered,
much to kitty cat's delight
from then on they could not be severed.

She'd play with him both day and night
hardly an hour we slept;
she'd go fetch and carry him
in her whiskered mouth.

Then one day a tragedy struck
as Mousey could not be found;
we searched for him both hi and low,
our sadness was unbound.

We wandered here, looking there,
but no other mouse was her "boo,"
and so we pondered our dismay
and wondered what to do.

So, mommy in her wisdom thought
I'll go to that magical realm
that shop that sells kitty cat things,
so another mouse could be found.

On Christmas Eve, with stars aglow
and lights glistening all around,
she carefully wrapped "Mousey two"
and laid him on the ground.

On Christmas morn kitty cat awoke
to see what would be,
in the package tied with pretty things
her new friend she did see.
Poetry by Morning Star
Read 627 times


Editors' choice
Written on 2012-12-27 at 02:13

Tags Humor&nbsp Joyful&nbsp



Save as a bookmark (requires login)


Write a comment (requires login)


Send as email

Print text

Increase font

Decrease