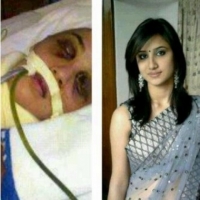 The most disgusting brutality. It makes me very sad.
(Reading the news from Delhi of 16th of December)

You Wonderful Indian Girl - For Jyoti

Late one night on a bus in New Delhi you were raped
By six men beaten, with nowhere to go
They took your body, your soul and your mind
Tore you all apart, threw you out on the road.

How can some men do a deed like this?
It's beyond anyone's comprehension
It's so disgusting I'm missing words
Feeling ashamed being a man.

There's no explanation that can give me trust
Just want to see them hanged but not too fast.
I know I'm cynical but I can't forgive
Those men were devils don't deserve to live.

Rest in peace, you wonderful Indian girl
Rest in peace, we always will remember you
Rest in peace, your violators will be doomed, that I know
From my heart, rest in peace, you brave and wonderful girl.
Poetry by Richard
Read 750 times
Written on 2012-12-29 at 02:09



Save as a bookmark (requires login)


Write a comment (requires login)


Send as email (requires login)


Print text