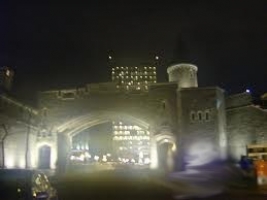 Current Mood: undefined
Current Music: "Indifference" - Pearl Jam
NOTE: 2014 02 15 02H00 EST Portes St-Jean, QC -
Portes St-Jean, QC
Under the moon's crescent,
the brightness of the stars
in stark contrast with the black
of the night sky, lulled to peace,
and rid the latent ghosts' kisses.
We sat around on the grass,
being our usual eye-sore for
the upstanding citizens of our
city, but we had no care for
that, we laughed and we sang.
Even if the night air was cool,
and summer was on its way out,
guitars at hand, we'd sing Violent
Femmes' songs and others, it
made everything else disappear.
Engulfed in the innocent fun,
it'd pave the way to pleasant
distractions for ones who had
reality at their throats on a
constant basis - a sigh of relief.
Maybe words will never suffice
for a proper explanation of what
it was like for us, how these
little moments marked us so,
but those nights were truly special.
Yes, I can still see us all
there, and on nights like tonight,
I'm reminded of those years.
And then I find myself romancing
an old version of freedom ...
Words by F.i.in.e Moods


Read 664 times


Editors' choice
Written on 2014-02-15 at 08:10



Save as a bookmark (requires login)


Write a comment (requires login)


Send as email (requires login)


Print text