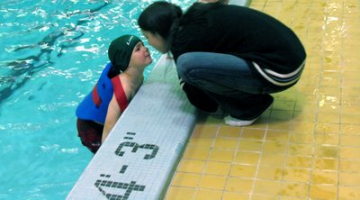 Current Mood: happy
Current Music: "Stay the Course" - NateWantsToBattle
NOTE: 2020 07 31 13H06 EST Darling Son -
Darling Son
- my second baby is now a young man... taking his first steps in the direction he wants to take his life... a lot of exciting things going on for him, and I'm over the moon happy for him...
Whenever I see this picture,
my heart melts as much as
on the day you paddled over
to the side of the pool for this
impromptu kiss of sweetness.
My, how time has gone quickly!
But here were are, you're a fine
young man, and you're on your
way in the direction you wish
to take your life - it's begun.
A place of your own, a job to
take care of all these "adult"
things all must at one time or
another begin to manage, and
a promising career in waiting.
Basic training about to begin
finally after all these months of
waiting during this virus crisis.
When you called me to tell me the
great news, been giddy ever since.
You sound so happy, and so
ready to take it all on. Your
enthusiasm and excitement
very palpable, making me
feel ecstactic for all this good.
You've had to fight so hard
to get to where you've arrived.
But I always knew that you
could - just by your caring
nature about what's important.
Pushing through anything,
you have proven time and again
to yourself that you are capable
of achieving what you want. The
pool one a perfect first example.
I remember how everything
was so much hardship, how
discouraged and frustrated
you would feel about it all.
But with time, all the efforts
which you had to put in, started to
yield a small place for victories.
And as time went on, they became
more and more frequent, until these
efforts weren't needed anymore.
It's without any doubt in my mind
that I know you'll carry on this way.
My sweet, caring son, with a darling
heart, I'm so very happy for you. How
I adore you, you know I always will.
Although you're a young man now, and
those little cheeks aren't as prevalent
as they most adorably once were,
you'll nonetheless always remain
« Ma belle p'tite face » (wink)
Words by F.i.in.e Moods


Read 41 times
Written on 2020-07-31 at 19:09



Save as a bookmark (requires login)


Write a comment (requires login)


Send as email

Print text