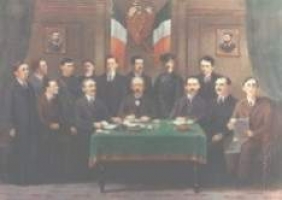 Easter 1916 Dublin Ireland . An acrostic text
Insurrection by M.A.Meddings
On easter Monday 26th April 1916 Patrick Pearce as leader of a group of Irish republican activists, stood on the steps of the general post office in Dublin
and declared the unilateral establishment of an independant Irish republic
It was the first practical, embryonic insurrection against British Sovereignty in Ireland. The rebellion was doomed to apparent failure and the rebels knew it.
They were intent however in bringing the cause to the notice of the Irish people and as a 'blood sacrifice' hoped to arouse a general Irish patriotism.
It seemed initially, on that count, to be a failure, for when the rebels were transported to England whilst awaiting trial, as they were marched under armed guard to the embarkation point at the quays on O'Connoll Street they were booed and jeered by a largely hostile crowd.
Twelve months later after a trial for treason and the leaders executed, the remaining rebels were brought back to Ireland for imprisonment in Mountjoy jail, they were cheered by a large and emergent patriotic crowd. The cause of Irish freedom was born and the insurrction continued albeit as a guerrilla war.
If one single event was to cause the people of Ireland to change there allegiance so dramatically, it was probably the fact that the leaders were executed and made martyrs. James Connoly founder of the initial insurrection on Easter Monday 12 months earlier and crippled by the injuries he received, was actually shot whilst sat in a wheelchair.
It was to prove the biggest mistake the English parliament made in its dealings with the Irish question.
Irelands pain
Never again
Subjergated will we be
United in the cause
Rebel against the crown
Return the land to us
Easter Monday 1916
Connoly Pearce and the rest
Take what they give
Ireland we will free
One heart one freedom
Nationhood
Poetry by lastromantichero


Read 470 times
Written on 2006-12-11 at 09:53



Save as a bookmark (requires login)


Write a comment (requires login)


Send as email (requires login)


Print text

Increase font

Decrease