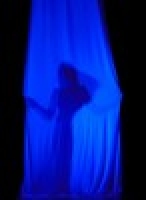 Standing Ovation
Lonely woman on the stage
hear the applause of those caged.
In the audience of desperate souls,
lies the heartbeat of a withered rose.
Clap of hands and cheers of woe,
bows of rejection, tears exposed.
Down the river of a life of rain
as you smile and smile again
hiding the hurt, playing the role
that supports your masquerade show.
In the spotlight, face askew,
masking what is really you,
act the act and juggle those balls
until the world around you falls.
Bring the darkness, clear the room
there is comfort waiting in the gloom.
As the curtain closes 'cross your face,
time will take and then replace
all that seems like elusive gain
will escape in the silence of your pain.
Lonely woman on the stage
hear the scream of plight and rage.
Take your bows and roses too
for that is all that's left of you.
Kathy Lockhart
1/4/07
Poetry by Kathy Lockhart


Read 2200 times


Editors' choice
Written on 2007-01-05 at 01:36



Save as a bookmark (requires login)


Write a comment (requires login)


Send as email (requires login)


Print text