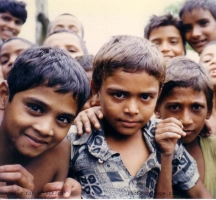 Children are easy to boss-over, be forced into labour, terrorized into submission, and cajoled into exploitation, because they are vulnerable & weak.No wonder,there is hardly any sphere in life, where children are not exploited.
Children of a Lesser God- Bonded Labourers

There is hardly a place on this earth/or an era in history, where child-labour does/did not exist. The exact number is difficult to estimate; The official estimated figures, however, stand at a shocking 12, 5 million in the age group of four to fourteen in India alone, and this is just the tip of the ice-burg. Carpet-Weavers of Mirzapur, Tea-Plantation workers of Darjeeling, Zari-workers of Banaras, Embroidery-unit labourers in Delhi, Lock-Factory workers of Aligarh, Silver-Needle factory workers, match-factory workers, and the list goes on…
As the world marked the 12th of June as the "World Against Child Labour Day", I helplessly watched children being kicked, scolded and beaten-up into submission and labour, sometimes, beyond their capacity. It is hard not to get appalled…
I would like to share here the 1st of a series of short poems, I wrote under the common heading of "Children of Lesser God-the Bonded Labourers", with my friends...


1-THE CARPET WEAVERS

He breathes the fibre
That he weaves with ease,
Into a carpet of sheer beauty.
The carpet will adorn the floor
of those who trample it
Under their feet.

The fibre settles in his lungs,
In a pattern, quite similar
To the one he weaves.
It cannot be seen, it's heard,
In his every wheezing breath.

He weaves his childhood
Into that carpet,
His dreams into its pattern,
His blood and sweat into
Each and every knot,
His soul into its warmth.

He weaves his heart
Into each flower,
His freedom into the wings
of every bird in flight,
His blood colours every rose,
His sweat the yellow of each lily.

His innocence he weaves
Into the softness of each bud,
His nights are in the blackness
Of the background.
Where do his tears go?
They dry-up as he begins to grow.

Old and haggard
Long before his time
His skin, no longer soft
Like the delicate carpet,
But rough and torn. A rug
Trampled by Time.

When next you step
On such a carpet,
Do not be smug.
Think!
A childhood might be
Woven into it…

Author: Zoya Zaidi
Aligarh (UP), India
Copyright©: Zoya Zaidi

Note: The carpet-fibres get deposited into the lungs, causing pneumoconiosis, a form of interstitial fibrosis of the lungs, giving rise to shrinkage of lungs, reducing their vital capacity, and causing breathlessness and wheezing.
There are an estimated 1,5 million children employed in carpet weaving industry in India.

Poetry by Zoya Zaidi
Read 2324 times
Written on 2005-10-24 at 18:51

Tags Children&nbsp



Save as a bookmark (requires login)


Write a comment (requires login)


Send as email (requires login)


Print text