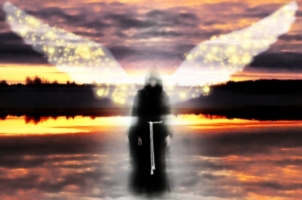 A poem that I want to make a song someday...that's why I call it "A song about you".
A song about you
I wanted to write a beautiful song,
about the happiness in my life.
The magic day when you came along,
and saved me from using the knife.

I was more dead than alive,
vultures tore my body apart.
You were brave enough to dive,
deep down below to save my heart.

You came in the middle of the night,
and brightened up my dark sky.
Showed me how to reach the light,
and told me I would never die.

Like an angel from paradise,
you left heaven to see me in hell.
The devil was fooled by your disguise,
a million souls were saved from your spell.

Just like the shining sun,
the beauty of your smiling face.
You filled my life with so much fun,
I felt like I was floating in outer space.

You opened my eyes and made me see,
I just wanted to scream and shout!
You set my captured heart free,
that's what this song is about.

I wanted to write a beautiful song,
tell the world how much I love you!
Your understanding made me strong,
now I shine as much as you do.
Poetry by Freeman
Read 886 times


Editors' choice
Written on 2007-02-09 at 07:53



Save as a bookmark (requires login)


Write a comment (requires login)


Send as email (requires login)


Print text

Increase font

Decrease