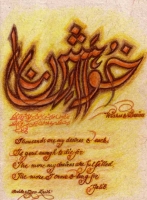 Happiness is the most pursued & sought after, most elusive & slippery, most momentary & fleeting, and most loved & coveted of all feelings; and yet every one has his or her own perception of happiness...I think, happiness is an art!
Art of Happiness
("Whatever the soul longs for, will be attained by the spirit" Kahlil Gibran)


They say:
Happiness is caring
Happiness is sharing
Happiness has a twin sister joy1

Happiness is a fire that keeps life aglow
Our purpose warm, our intelligence aflow2
Happiness is a desire that evenly grows3

Happiness is a net of love, in which we catch souls4
Happiness, when the mind is pure,
Follows like a shadow, and never leaves our shores5

Happiness is freedom to do what gives you joy6
Happiness is to be seized, and had here and now
Long drawn preparations prove a killjoy7...


I think:
Happiness is an art!
You have to learn to draw it out of life
Every inch and stroke of it
Steal it from those fleeting moments
And colour your life with it:

The colour of your heart's blood
The shadow of your smile
The hues of your suffering
To weave a fabric fine,

The fragrance of your love
Intensity of your passion
The flavour of compassion
To make a heady wine,

The fire of your longing
The sense of belonging
That keeps you from crumbling
A melodious spirit Divine...


But, keep a little tear
Just behind your eyes
To light up the darkness
Of sad and wretched lives
'Cause there is no greater pleasure
Than giving joy to another8...

Happiness is not a thing, given us
Happiness is within us9...

Happiness is an art
Happiness is strive
Happiness is a mystery, not to be rationalized10...



Author: Zoya Zaidi
Aligarh (UP), India
Copyright ©: Zoya Zaidi

Calligraphy of Ghalib's Urdu couplet 'thousands are my desires by and
©: Zoya Zaidi

From: Lord Byron1, Helen Keller2, Mine3, Mother Teresa4, Gautham Buddha5, EB White6, Jane Austen7, My own poem8, Richard Wagner9, GK Chesterton10


Note: Invite all my friends to give his or her perception of happiness in nutshell in a couple of lines in verse...
Let's play the game of Happiness!


Poetry by Zoya Zaidi
Read 1606 times
Written on 2005-10-29 at 13:11

Tags Happiness&nbsp



Save as a bookmark (requires login)


Write a comment (requires login)


Send as email (requires login)


Print text