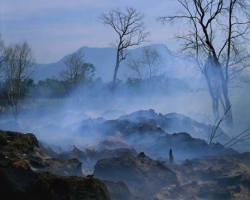 New Year's Eve: Driving down from Delhi... Dreams, desires, fantasies intermingle conjuring up images in the fog...
Nocturne


Thick fog
Silent night
Moon is shining bright,

You and I on a high
Road to eternity.

Time is lost in the mist,
Cradled, rocked to sleep.

The mist gently casts a spell on us
in its wake and
We get the feeling of
Being suspended in Time and Space
By Moonbeam bathed.

You're silent
I do not speak a word.
Silence reigns between us,
Heartbeats hear each other,
Breaths, whispers intermingle.
I close my eyes, I hold my breath,
I feel you with my soul,
Magic is held between us...

Dewdrops condense
The windscreen sweats
Lips are sealed
Silence speaks,
hearts communicate
Time is Mesmerized:
Moments stretch into Eternity
Our souls compose a Nocturne.



Author: Zoya Zaidi
Aligarh (UP), India
Copyright©: Zoya Zaidi

Note: Poetic Trancreation of my Urdu poem "Kohre ki Chadar"; Alas most of it is lost in translation.
Poetry by Zoya Zaidi
Read 2146 times
Written on 2005-11-15 at 04:35

Tags Romance&nbsp



Save as a bookmark (requires login)


Write a comment (requires login)


Send as email (requires login)


Print text