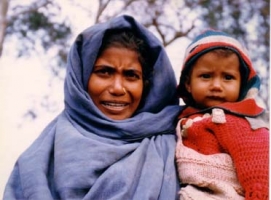 Salman Rushdie once said: "We, Indians, love to burn our women!" Surely enough, it is the 'easiest', and the 'safest' way of doing away with the 'unwanted women';For eons of time,history has watched helplessly excesses done on women;India'
Woman Burning Bright!
Centuries have come and centuries have gone,
Moment-to-moment I burn along...
Life is burning desert sand...

Pooja1* lamp, I burn so bright
Without a wick, with incandescent light...

In hell-fire-of-separation, I burn,
My beloved, unconcerned...

Bowl of poison, I drink without a hitch,
Like Meera2*, my moon is eclipsed...

I have stood the "Test-of-Fire"
With Sita3*, on burning pyre...

Like a candle melts my soul,
Moths a thousand, encircle close...

My womb's scorched again and again,
A mother, I love without a gain...

My forehead, Vermillion-dyed,
In bright–red flames, a "Burning-Bride4*"...

Still, I burn on the "Funeral–Pyre",
As a "Sati5*", much to my ire...

As one born out of a litter,
I was sold to the highest bidder...

Quietly, in the womb done away6*
I never saw the light of the day...

"Wood burns to coal, coal to ashes,
I burn so, neither coal nor ashes..."7*

Centuries have come, and centuries have gone,
Moment-to-moment, I burn along...
Humanity is a barren desert land....


Author: Zoya Zaidi
Aligarh (UP), India
Copyright©: Zoya Zaidi



1*Pooja-prayer
2*Meera Bai, a "Sufi" poetess of "Bhakti" cult, considered herself a consort of Lord Krishna, the worldly –wise deity and the writer and propounder of the famous of "Bhagwad Geeta" philosophy of "Karma"!... Being a kings wife, in a conspiracy, she was made to drink a bowl of potent poison; the legend goes, that so deeply was she in love, that she drank the poison unheeded, and survived by the sheer power of her love...She symbolizes divine, sublime, pure love...
3*Sita of the Hindu epic Ramayana, was made to go through the "test-by- fire", by sitting on a burning pyre, to prove her chastity, after she was 'rescued', by her husband, Ram, the king of Ayodhaya, from the clutches of Ravana, the demon king of Lanka, who abducted her and kept her with him for a long time...
4*"Bride Burning" is the term coined in India, to refer to the "Dowry-Deaths' (Another unique Indian term), where women are "accidentally" burned by "Kerosene-stoves/gas cylinder-bursting " or simply " in the " kitchen-accidents", when they don't bring enough "Dower" from their father's home for the groom ...http://www.wsws.org/articles/2001/jul2001/ind-j04.shtml
5*Sati, an ancient Indian tradition of burning the wife on the "funeral-pyre" of her husband to save her "honour", (also called "Johar" in Rajpoot tradition of women of fallen warriors, jumping into a tank of fire, to ward against their "pillage" at the hands of the enemy); This heinous practice still persists...The famous case of "Roop Kanwar", in 1887, is one such glaring example...http://www.kamat.com/kalranga/hindu/sati.htm
6*Foeticide, has replaced, the ancient Indian practice of strangulation and burying-alive, of baby girls, since the advent of Ultrasound: As soon as the sex of the foetus is determined to be that of a female, the baby is aborted (though, sex determination is termed illegal by law in India since1989), according to a recent survey;" 10 million girls fell victim to "Female Foeticide" in last two decades, and these are estimated figures only...So much so that the term: 'Missing girls" is coined to depict the glaring gap between the estimated number of girls that should be born to each 1000 boys , and those who are actually born...the figures stand at a shocking 793 girls to each 1000 boys born (in the state of Punjab alone),while the estimated number should be: equal number of girls born to each 1000 boys...http://www.indianchild.com/abortion_infanticide_foeticide_india.htm
7* Quote from Meera Bai's famous poem:
"Lakri jali bhai koela,
Koela bhaya rakh,
Main birhan aise jali,
Koela bhai na rakh..."



















Poetry by Zoya Zaidi
Read 1516 times
Written on 2006-01-19 at 04:33



Save as a bookmark (requires login)


Write a comment (requires login)


Send as email (requires login)


Print text