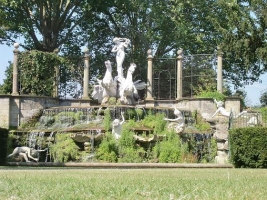 The Naked Ladies are part of a statue installation on water cascade in the gardens of York House, Twickenham, Middlesex, England.
The Naked Ladies
You'd think those old girls
would get tired of splashing
around in the same pond
for a hundred years.

You'd think they'd worry
that their marble white skin
would be burned after decades
under the occasional English sun.

Certainly their majestic steeds
look a little restless,
like they wouldn't mind
an evening gallop or a meadow to graze.

But they don't ever tire,
they frolic and climb and jump
like it was the first day of summer,
like everyday was the first day of summer

And if you really think about it,
if their slender perfect fingers never wrinkle
how exactly would they know
when it was time to get out?

Poetry by Rapscallion
Read 761 times
Written on 2009-07-10 at 07:49



Save as a bookmark (requires login)


Write a comment (requires login)


Send as email (requires login)


Print text