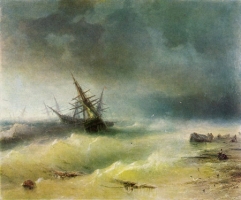 The sea waves fascinate me...
To the Sea Waves


When the waves come and beat about
the rocks on the sea-shore,
They stir something in my heart;
Touch somewhere in my soul:
Turbulence rises deep in my core
Like the rising and dipping of the waves on the shore.

When they pound about the rocks
Like a lover would beat his head against the wall
In sheer frustration of unreciprocated love
It troubles my soul,
and I am reminded of you some how...

When the sheer passion of the waves
Breaks the rocks, and makes holes in it
At places smoothens it to a silky sheen
I wonder what power of love can do...

So, beat waves, beat about the rocks!
Beat till you make the hard rock comply,
And yield to your perseverance...


Author: Zoya Zaidi
Aligarh (UP), India
Copyrightę: Zoya Zaidi
26.02.2010
1.00 am, while watching "Under the Tuscan Sun"
Image: "Ship Wreck" by Aiwazovsky, the Russian Painter passionate about the sea...


Poetry by Zoya Zaidi
Read 813 times


Editors' choice
Written on 2010-04-20 at 20:36



Save as a bookmark (requires login)


Write a comment (requires login)


Send as email (requires login)


Print text