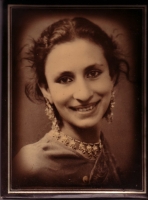 Trans-creation, from original in Urdu, of one of my mother, Sajida Zaidi's poems, titled: "Kab Say Mehv-e-Safar Ho"
The Eternal Journey
The Eternal Journey

Sajida!
With so many eras of roving in you
How long will you journey,
How long will you wander in this wilderness
and dance in frenzy, with these hurricanes ?

In how many deserts have you blistered your feet,
How many wakeful nights have you spent in longing?

Sajida, Say something!
How many nights of separation
Did you drown in tears?
How did you pay back the debt of passion?
What struggles your restless heart,
soul and body went through?
How did your soul fight the turmoil of agony?

How in the face of terrible whirlwinds
Did you salvage your honour?
How did you, in face of yawning, freezing loneliness,
Celebrate the carnival of life?
How did you melt in the fire of passion,
To find your voice?
How did you find the glory of God
In dun darkness of wakeful nights,
How many times did you bow your head
in the prayers of His Might?

Sajida!
How long have you been travelling the path of pain?
How many flowers of your eloquence have bloomed,
In the barren deserts of life?
How many lamps of longing did you burn,
In this darkness of desire in the night?

Sajida!
In this endeavour, did you ever
Improve the face of life?
Did you light a lamp of hope in any heart?
Did you change the rhythm of life?
Did to turn desert sands in to gold?
How many wounds of mankind did you heal?
Ever turned any tale of injustice into sweet melody?

Sajida!
It is the eve of life,
Sleep, you are exhausted, forget all hullaballoo!
Beyond the burning desert, for miles together
Are the footsteps of timelessness
Seasons are changing colours
You are no Messiah!
Sleep, the sleep of exhaustion!
Forget the dance of passion...



Transcreation of original of Sajida Zaidi's poem
by Author: Zoya Zaidi
Aligarh, UP, India
Copyright ©: Zoya Zaidi
8th April 2011, 7-45 PM
Completed on the 15th April 2011, 3PM
Trans-creation from original Urdu of Sajida Zaidi's poem "Kab Say Mehv-e-Safar HuN"
Photo: Pic. of my Mom, aged 30 or so...
Poetry by Zoya Zaidi
Read 1249 times


Editors' choice
Written on 2011-06-06 at 10:17



Save as a bookmark (requires login)


Write a comment (requires login)


Send as email (requires login)


Print text