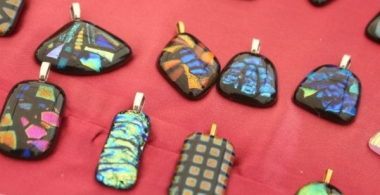 On the balance between work and happiness as an artist... A little internal skullduggery. Churning it out just doesn't work. Pic - some of my recent kiln work.
Hand Crafted, or "For Love or Money?"
It is said the greatest joy, in employ
Is to do what one loves best
But what if the dream job leaves you robbed
Of creativity, of zest?

For the money, a production line is fine
But where does that leave art?
If I must become machine, I glean
From this toil I must depart

In a battle to save my soul, stay whole
Still making sure the bills are paid
I"ll choose mental health above all wealth
And keep my work hand made.
Poetry by Purple Phoenix
Read 817 times


Editors' choice
Written on 2014-02-23 at 16:34



Save as a bookmark (requires login)


Write a comment (requires login)


Send as email (requires login)


Print text

Increase font

Decrease