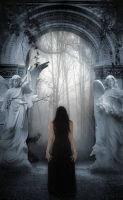 Censored
I actually don't care about my case.
They cast me out, and I can do without them
maybe even better, but the fact is they did wrong,
and not correcting it is doing further wrong.
I have been through all this before
too many times as victim of judicial errors,
usually they never were corrected,
so I concentrated not on bickering but on surviving.
Maybe I was locked out and excluded for my satanism,
maybe they considered me a risk for public safety,
maybe I provoked their paranoia as a dangerous momentum,
I don't care, I just can't be what I am not
and therefore have to be no more than what I am,
and so far nothing in the world could make me cease to be.
When that momentum comes, my poetry will still exist
and will be heard in silence.
Poetry by Laila Roth
Read 324 times
Written on 2017-08-08 at 20:25



Save as a bookmark (requires login)


Write a comment (requires login)


Send as email

Print text