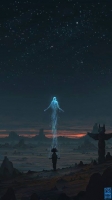 Religious hoax or delusion?
All religions have one thing in common:
the alluring promise of life after death,
and no religion ever could in any manner warrant it,
although that's what they all did, every single one,
in diverse ways and versions,
with your bones intact, like christianity,
a life in paradise with countless whores, like islam,
or in everlasting bliss of nothingness, like buddhism.
Satanism makes of the christian hell a joke,
while buddhism claims the everlasting punishment is life on earth.
Do all religions promising life after death intentionally cheat,
or do they actually believe in their delusions?
In both cases, they are worthless, ready to be scrapped,
and they are all most probably both cases.
Nothing is made better by the fact that we can never know the truth
as mortals, only guess and try to grasp the unknown
by divining metaphysically what is constantly beyond us
and pertaining to a different dimension than the known ones;
and perhaps we here might have a clue,
in trying to discover different dimensions.
The incarnation of awareness in a mortal body
is life's greatest mystery, but it's a fact
that the awareness does not need a body to exist.
We can't imagine ourselves with an awareness interrupted,
so there must be afterlife, but hardly in a paradise or hell
or in dead bodies resurrected. There must be a universe
of different alternative dimensions,
that we are restricted from by our mortality;
but when we're dead, as Helen Keller said with certainty,
we shall at last be able to see clearly.

Poetry by Laila Roth
Read 597 times
Written on 2018-03-28 at 10:46



Save as a bookmark (requires login)


Write a comment (requires login)


Send as email (requires login)


Print text