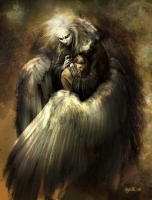 How can love survive?
Is it possible to get too old for love?
I would say no, since love continues after death.
Your body may decline and wither,
your activity may gradually fade,
you will get slower, certainly, but never stop,
and the most noteworthy phenomenon might be,
that with the waning of your physical and sexual activity
your love will grow the stronger and more prominent,
intensive, actual and undeniable.
It may not easily be noticed, but like a volcano,
the more silent and more evidently dead it seems,
the hotter it will burn inside
and even hotter for your being all alone to feel it.
There is always someone else, however,
and such is the force of love,
that whether he is dead or absent,
he will feel it and respond the stronger
for not being present, active and concrete.
Poetry by Laila Roth
Read 620 times
Written on 2018-03-25 at 13:16



Save as a bookmark (requires login)


Write a comment (requires login)


Send as email (requires login)


Print text