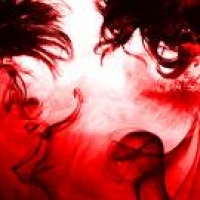 Image by Stefano Virgilli in Italy, Titled: L'infazia di Maria.
I just happened to find this today by chance and felt this image expressed the feelings in my poem.
Thank you Stefano!
Funeral Soul
Stroke the flesh, warm and tender,
Closed my eyes, my mind it wanders.
Wishing this was not where I was,
Quenching your thirst, in my open arms.

Known the rhythm of your tremors,
Once before I lay here, same place just another face.
Bite my lips feeling empty, and drained,
I hear the warped messages in my heart.

Love me with your mind and spirit,
Take forever and paint it around me,
Hold my attention and my heart,
Things you cannot see, only feel deep inside.

Listen really to my thoughts,
The productions of my singularity,
I am much more than the flesh you can feel,
I am more than the breaths I take.

Look at how now I fade away,
Sacrificed my existence to give,
That one thing you are searching for,
Soon I'll run and crawl away.

Soon my lips will speak inaudibly,
In no time I will be gone, turned invisible,
While you drink your so desired juice,
I have traveled away from here.

Leaving my flesh at your disposal,
I close my eyes tightly and I wish,
Clench my fingers as to withold,
My anger and disappointment.

Is this all you seek? And I weep tearlessly,
Hearing the painful cries of my heart,
I no longer hear the joyful songs you once brought to me,
Wretched thirst I cannot quench, hateful tossing about.

I lift my eyes up to see, your happy satisfied face,
I smile vacantly; hold your head in my arms,
My heart sinks, you cannot see,
See my real pain; see another funeral of my soul.
Auterkeia Nihil

November 2006
Poetry by Autie
Read 1178 times
Written on 2007-03-18 at 18:50

Tags Flesh&nbsp Funeral&nbsp Soul&nbsp



Save as a bookmark (requires login)


Write a comment (requires login)


Send as email (requires login)


Print text

Increase font

Decrease