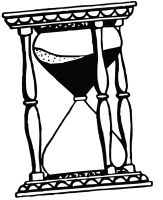 How to have a positive outlook on what might otherwise be a rather difficult situation.
Sands of Time
Your messages to me are tiny grains of sand.
But read that the good way and understand:
That every grain's a treasure, as if of gold,
And its worth to me is many-fold.
As it comes, is read, enjoyed
My spirit lifts, is buoyed!
Your love is clear
My dear.
And
The sand
Of time falls too;
Brings me closer to you!
With each passing day apart,
The day approaches when my heart
And yours beat once more in mellow time,
Our embraces lifting us up to heights sublime
And we'll need fear no more the Sands of Time.
Poetry by TonyD
Read 949 times
Written on 2009-10-08 at 23:16

Tags Love&nbsp Patience&nbsp Waiting&nbsp



Save as a bookmark (requires login)


Write a comment (requires login)


Send as email (requires login)


Print text