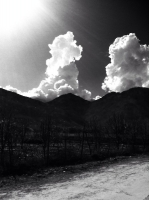 En Route Manali
We look for diamonds on our fingers
And forget the ones in the sky
I remember the day
When the grey rocks turned to white
In the sunlight
When the angel's voice reverberated
Through my soul during my ten day high
I could feel the springs of emotion
Taking birth in my eyes
For I saw the beauty around me
Reside within me
I share my soul with this earth
And with it I'm immortalised
I'm infinite. I'm beautiful.
I'm whole. I'm healed.
Poetry by Sharanya Venkataraman
Read 995 times
Written on 2015-08-23 at 18:59

Tags Poetry&nbsp Music&nbsp Nature&nbsp



Save as a bookmark (requires login)


Write a comment (requires login)


Send as email (requires login)


Print text