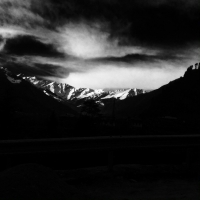 Written on 19th July, 2014. Inspired by the band Tool and an asshat.
Muse
My angel was beside me
As was the water, whose soul
Reverberated through mine
From craggy hills
To mud splattered planes
I followed his glow
Making his voice
The music of my soul
Indelible within me
My heart turned to stone
But my affection was ever fluid
The world – a vixen,
The universe – her mistress
Deception is second nature to them
And their people
For my angel and I lay as we did before
Alone, broken Right In Two.
Poetry by Sharanya Venkataraman
Read 1105 times
Written on 2015-08-27 at 22:22

Tags Music&nbsp Poetry&nbsp Love&nbsp



Save as a bookmark (requires login)


Write a comment (requires login)


Send as email (requires login)


Print text