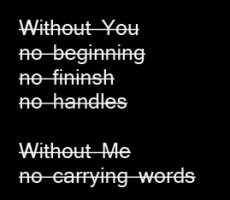 Bases

From the palace yard
in the castle of air
a litany is rising
"Alfa and Omega - Alfa and Omega"


The ghost knight carries its messenger
who seeks to be at hand at once with -

[thatwichisbetween] -


And by hook or by crook
the fosse shapes that marsh of mirrors
where the world fashions its eternal grammar:


- What do you want?

- Why do you think I want anything?

- Everybody wants something from you.
Poetry by Telesforos
Read 844 times
Written on 2010-08-30 at 11:55

Tags World&nbsp Meaning&nbsp Mirage&nbsp



Save as a bookmark (requires login)


Write a comment (requires login)


Send as email (requires login)


Print text

Increase font

Decrease