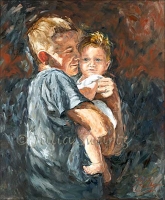 48) To Mom & Dad
What would I give you Mom?
Would a rose equal a night you have spent watching me?
Would a perfume pay for the tears you have shed for my pains?

What would I offer you Dad?
Would a jewel tell you how warm and safe I felt between you arms?
Would a watch compensate for the times I made you lose your mind?
Would a card express to you how I owed you and Mom my life?

Mother's day isn't enough, neither father's one,
To show that I love you both so much.
Love you for the example you present,
Love for the sacrifices you make, and
Love you for being the mom and dad who my world amaze.
I see many children cry and complain.
In orphanage and behind gates;
For they did not have parents like you.
They weren't cuddled and guided through,
And found a mom smiling as you,
And a dad who's supporting as you do.

I can never even give you half what you have given me.
But I will try as you get old,
To care for you,
To hug and embrace you,
To feed you,
And cry as you get sick and never forget you.
To repay at least a grain,
Of what you have given me in my old days.


Poetry by Amanda K
Read 851 times
Written on 2007-03-24 at 12:17



Save as a bookmark (requires login)


Write a comment (requires login)


Send as email (requires login)


Print text

Increase font

Decrease