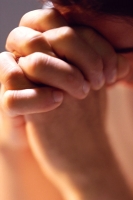 Sometimes talking to humans is in vain and as we are doing so we unintentionally forget to address who understands us best "God".
3) Dear God
God sometimes I feel am lost, lonely and sad in life.
Those times in which I need You most.
Then God give me a hand and make me trust in the good.
God send me answers when things turn hard to figure out.
God catch me when I fall in holes and it seems that I can't reach the top.
Dear God always bless me with Your Mercy and Compassion for I believe they have no end.
Drive me to the shore where hopes with faith can win.
Let my Belief in You guides me through the dark paths with light so strong to hide.
Laminating me with Your Love
which makes me feel comfort.
God just lift my soul from every sore.


Poetry by Amanda K
Read 1248 times
Written on 2006-06-08 at 17:48



Save as a bookmark (requires login)


Write a comment (requires login)


Send as email (requires login)


Print text

Increase font

Decrease