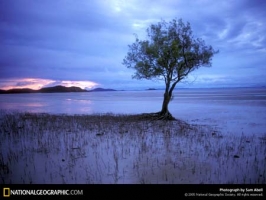 Longing for passionate union with the beloved sometimes colours your cravings for the loved one, you want to engulf him with your love, overwhelm him with your passion...yet the yearning remains...*
Sometimes I feel I am the Rain
Sometimes I feel I am the rain,
Torrential rain...
Pouring down upon you
With all the passion of my being,
Soaking the parched earth of your being...
Quenching centuries long of thirst,
Overwhelming, overflowing,
Flooding you with all my love,
Engulfing you in my being,
Till we are all but one...

Sometimes I feel, I am
A tender soft drizzle...
Touching gently your cheeks,
Slide tenderly down to your lips,
Caress your hot glowing skin,
Wallowing in your touch,
Melting softly with your touch,
Evaporate into the air,
& Leave you longing for more...
Myself all the while,
Savouring sweet longing of yore...

Sometimes I feel, I am
That tiny drop of rain
In the vapour of your breath,
Breathing along with you,
Constantly inside you,
Going along with you,
Your every move and stride,
On a dark and gloomy day,
In a solid, dependable way...

On a hot summer day,
I cool your burning brow,
Sooth your troubled frown...
Yes, I think, I am
That lucky rain of spring
On a hot summer day,
Longing to be with you
In every which way...

Some time I feel, I am,
Upon the parched earth of your being'
That very summer Rain.


Author: Zoya Zaidi
Aligarh (UP), India
Copyright ©: Zoya Zaidi


*This is next poem in my series of poems of identification with the elements of nature to use them as vessels of love!

Poetry by Zoya Zaidi
Read 3171 times


Editors' choice
Written on 2006-01-27 at 06:51

Tags Love&nbsp



Save as a bookmark (requires login)


Write a comment (requires login)


Send as email (requires login)


Print text